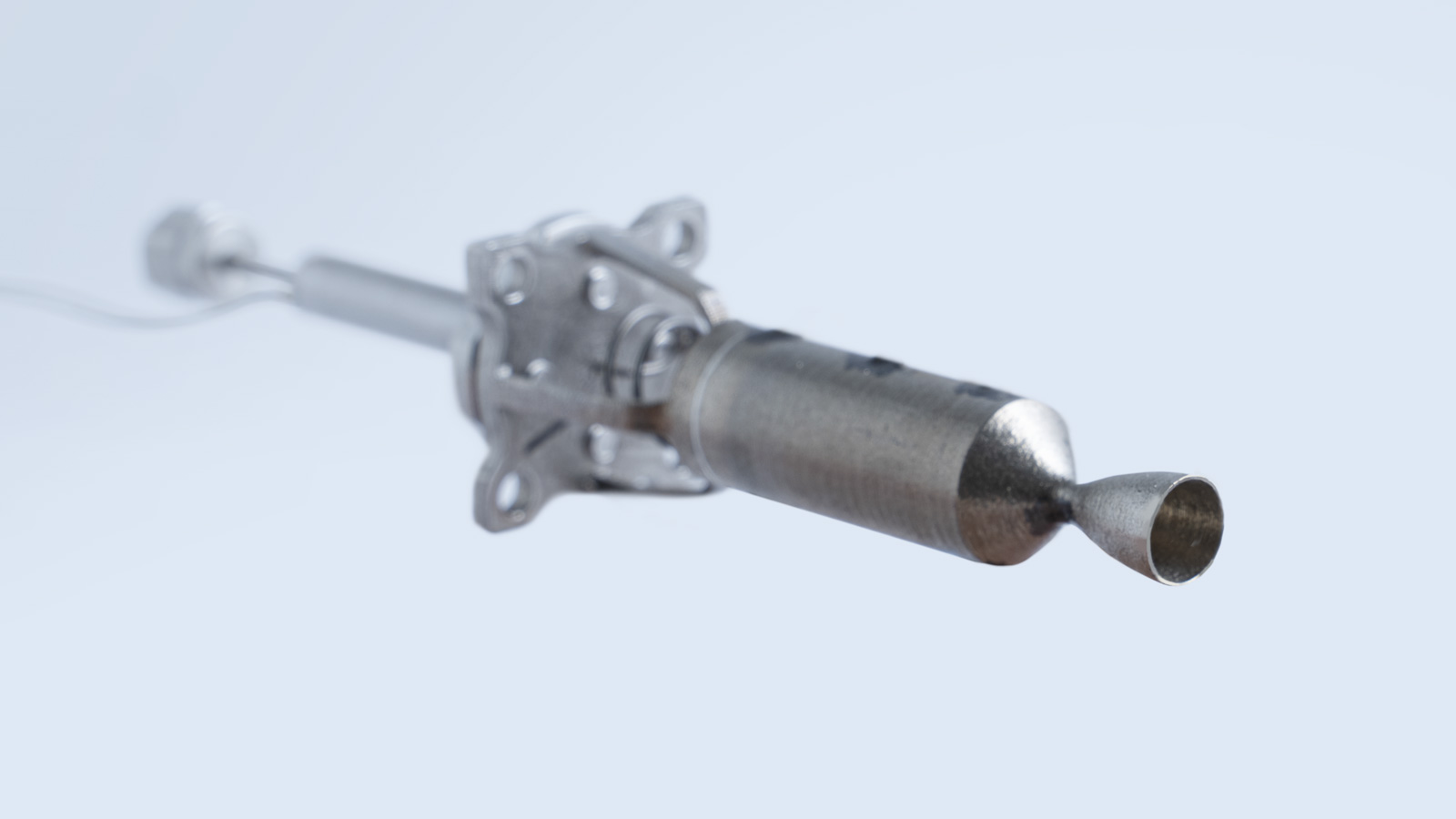 Documents
推進
HYDROGEN PEROXIDE SMALL THRUSTER
Takasago Fluidic Systems/YUKI Precision Co., Ltd.
■The Product
◎Overview
H2O2 Monopropellant thruster designed for Cubesats to 100kg satellites.
Our products support the space industry by providing easy, safe and cost-effective solutions.

◎MONOPROPELLANT THRUSTER
Thrusters are used for attitude control and orbit change.
There are two types of chemical thrusters.
One is monopropellant thruster which provides thrust by generating gas through decomposition of propellant by catalyst.
The other type is bipropellant thruster which can achieve high thrust.
However, the system is complicated because two supply lines are necessary.
Monopropellant thrusters are high in reliability because the system is simple with only one supply line.

◎SIMPLER TO HANDLE
Compared to hydrazine, handling procedures for low toxic propellants are much simpler, with only normal chemical protective clothing required, making prelaunch fueling both faster and less expensive.
Traditional hydrazine propellant is highly toxic and easy to evaporate requiring handling by qualified personnel using air supplied SCAPE [Self Contained Atmospheric Protective Ensemble] suits as well as standby medical personnel.
Specification

■Specification
Propellant      : Hydrogen Peroxide[90%-]
Thrust       : 0.2N
ISP         : 150- 155sec
Supply Pressure   : 0.9MPa
Valve Voltage     : Holding;3V-0.4W, Opening;12V-6.5W
Catalyst Heating Power: 0W * Cold Start
Weight       : Thruster;22.7g, Valve;8.0g

■supplement
・Technological Readiness Level:TRL4 [Vacuum combustion test completion]
・Thrust can be modified and the number of valves, tanks and thrusters can be designed to the needs of the customer.
・Developed under grant from the New Energy and Industrial Technology Development Organization [NEDO],
a national research and development corporation.
・This product was developed in cooperation with YUKI Precision Co., Ltd.
Documents