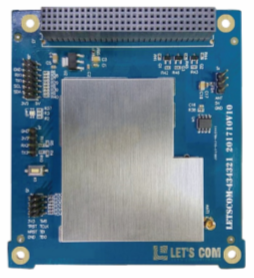 ドキュメント
通信系
TT&C (Transceiver Module)
HelioX Cosmos Co., Ltd.
<Outlines>
LETSCOM LETS-4343 series CubeSat TT&C Transceiver is a high-performance, low-current transceiver covering the frequency bands from 410 to 525 MHz customized (General version 430~442MHz Amateur Radio Band). It include a complete line of transmitters, receivers, and transceivers covering a wide range of applications. It offers outstanding receive sensitivity of - 126 dBm while achieving extremely low active and standby current consumption.
The 60 dB adjacent channel selectivity with 12.5 kHz channel spacing ensures robust receive operation in harsh RF conditions, which is particularly important for narrow band operation. The LETS-4343 series offers exceptional output power of up to +30 dBm with outstanding TX efficiency. The devices can meet worldwide regulatory standards: FCC, ETSI, and ARIB.

<Features>
・Input Voltage: 4.75~5.5V
・Operating Frequency
♦TX / RX 410~525 MHz
♦RF Power: 30dBm Adjustable / customized
♦Half Duplex
♦RF Connectors: MMCX
・Power Consumption:
♦Sleep: 1mW
♦RX: 120mW
♦TX: 0.2~4W
・Operating Temperature: -40°C to +85°C
・Two Thermal sensors on board
・Data Interface: UART / SPI /I2C 3 Types
・Data Connector: PC104/ PH2.0 Header 2 Types
・Receives Sensitivity: -126 dBm, (9.6 kbps, GFSK, BER<0.1%)
・Modulation: (G)FSK, 4(G)FSK, (G)MSK
・Configuration Interface: UART
・Easy configuration on PC Host
・Data Rates: 100 bps to 300K bps
・127dB Dynamic Range RSSI

仕様

Please refer to the attached document.
ドキュメント