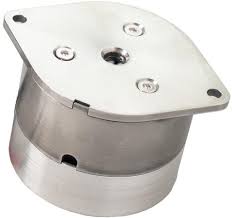 Documents
Others
REACT 15KN v2
Arquimea
ARQUIMEA's REACT devices are low-shock Hold-Down & Release Actuators
which function is to firmly fix a payload during transportation or launch and
later release it by electrical activation. REACT implements a redundant trigger
with two different motorization options based on Shape Memory Alloys (TiNi
and SMARQ®) covering wide actuation temperature ranges and providing
manual reset capability to the end user.
Typical applications of REACT include: solar arrays, antennas, booms and
masts, reflectors, cover doors, scientific instruments, shutter mechanisms, large
structures, launch locks for gimbals, thrusters, stage separation, caging
mechanisms, etc.
Specification

●SMA material:
 -Standard Operation Temp.: Nitinol
 -Extended Operation Temp.: SMARQ®
●Ultimate Load Rating: 22.5 KN
●Proof Load: 18.7 KN
●Release Load: 15 KN
●Shock@Preload: < 1,300 g's @15 KN
●Mechanical I/F (Main Bolt): M8 × 1.25 ↧15.5
●Misalignment at release: ±2.5°
●Electrical Interface
 -Standard Operation Temp.: 4A
 -Extended Operation Temp.: 20V
●Bridge Resistance
 -Standard Operation Temp.: 1.4 Ω ±10%
 -Extended Operation Temp.: 24 Ω ±10%
●Operating Temp.
 -Standard Operation Temp.: -90 / +65°C
 -Extended Operation Temp.: -90 / +125°C
●Non-Operation Survival Temp. (Pre-Act)
 -Standard Operation Temp.: -120 / +65°C
 -Extended Operation Temp.: ±120°C
●Non-Operation Survival Temp. (Post-Act): > ±150°C
●Life Cycles (min): 10 cycles on ground + 1 in orbit
●Mass: 300g
●Part Number
 -Standard Operation Temp.: REAC.153.V2.SX
 -Extended Operation Temp.: REAC.153.V2.EX
Documents